Islam & Muslims
Lecture by professor and author Mohammad Ali Chaudry, Ph.D.
Monday, July 18, 2011
10:30am to 12 noon
or
7:30 – 9:00pm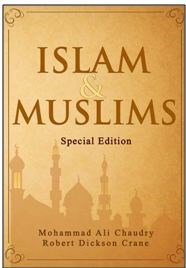 Islam & Muslims
by Mohammad Ali Chaudry, Ph.D. and Robert Dickson Crane, JD. is designed to help readers understand all aspects of Islam and Muslims.  The book aims to help readers create a common framework for explaining the wisdom of Islam in the contemporary world and to address questions about Islam with relevant citations from the Qur'an, Hadith, and various commentaries by scholars.

Dr. Chaudry is a former Bernards Township Mayor and former member of the Bernards Township Board of Education, and teaches a course on Understanding Islam for the Osher Lifelong Learning Institute at Rutgers University (OLLIRU).
Meet the author, hear how the book came about, and, if you wish, buy a copy ($35) and have it signed by Dr. Chaudry.

 


Mohammad Ali Chaudry, Ph. D.