The Library has much to offer those in employment transition. Join us at one or both of these programs and find out how we can help YOU.
Resources for Job Hunters: Available at Bernards Township Library

Tuesday, October 2, 2012 - 7:30 to 8:45pm

        Those between jobs, thinking of changing jobs, or re-entering the workforce have ready access to powerful job search tools at no cost through the public library.  Library resources, many available online to library cardholders, can save time and energy and turn up important leads and background information. 
        Job seekers are especially invited to attend this program, in which
Karen Vaias, Supervising Reference Librarian at Bernards Township Library, will describe and demonstrate how tools and resources available through the Library can be used to prospect for information on particular industries, pinpoint potential employers, and mine for nuggets of company data.  
        
        The Library's online resources can all be used both in the library and many are also accessible remotely through http://www.JerseyClicks.org/ by any library card holder in New Jersey. 
         The meeting will be held at 7:30 – 9:00 pm in the Bernards Township Library Program Room located on the lower level.  All are welcome at this FREE program.
         Pre-registration is suggested but not required; those who register in advance using the Program Calendar at
http://www.BernardsLibrary.org/
will receive an email reminder before the program.  For more information call the Library at 908.204.3031, ext. 4 or email
KVaias@Bernards.org
.  
       Members of the
Career Forum
and other support groups are especially invited to attend this meeting.  The
Career Forum
meets at the Somerset Hills YMCA on Tuesday evenings from 7:30 to 9:30 p.m.  T
his local support group offers programs of interest to those looking for work or contemplating transition and opportunities to network with other members of the group.  
7:00 Club: A Career Advancement Book Discussion

Thursday, October 4, 2012 - 7:00 to 8:30pm
This month the 7:00 Club will discuss
Absolutely Abby's 101 Job Search Secrets:  A Corporate Recruiter Hands you the Keys to your Job Search Success
by Abby Kohut. 
A special bonus will be a conversation with the author via Skype.


Absolutely Abby encourages you to answer your career wake up call by taking the time to identify your ideal job and preferred industries. Once you are committed to your mission, you'll learn the key strategies that will set you apart from the competition including: 
   *Why you're on a Never Ending Interview whether you know it or not. 
   *How to be resilient in the face of rejection. 
   *The importance of LinkedIn, Twitter & Facebook to your job search. 
   *How and why you should interview your next boss. 
   *How to use retro technology as part of your new strategy.

No matter what stage of the job search you are in, and no matter what level of success you have achieved in your career, within these pages you will find the keys to your job search success!
Need info on the go? Text a Librarian at Bernards Township Library.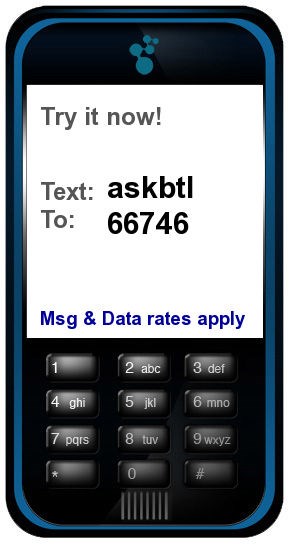 Responding to the popularity of mobile technology, Bernards Township Library has added text messaging as a reference service.  Area residents can now ask the library questions and obtain information either by text or by chatting with staff members via a widget on the library website.
Using the service is easy. Text
askbtl
to
66746
for instructions.  Message and data rates may apply.
For more information about the Text a Librarian service at Bernards Township Library please visit
www.BernardsLibrary.org/askbtl
.  Try out the new chat option on the library's main webpage: