The community of Shaker Heights enjoys a rich history and a wealth of local talent. In this newsletter we share new and significant works about Shaker Heights, and new and notable publications by our Shaker Heights Authors.
Have a question or need research assistance? Contact Local History Librarian Meghan Hays at 216-367-3016 or 
mhays@shakerlibrary.org
. Her regular hours are posted on our website.
Please visit the Local History Collection to read any of these works, and to learn more about Shaker Heights!
Meet-the-Author Event: Ken Springirth, Sunday, September 22
Please join us for a Meet-the-Author event at the Shaker Heights Historical Society, 16740 South Park Blvd, Shaker Heights, OH 44120.
Sunday, September 22, 2013, 3pm
Meet author Ken Springirth, whose new book, Erie to Cleveland by Trolley, is a photographic essay of the trolley lines that one connected Erie with Cleveland.
Springirth's book represents a 50 year research project. His father was a trolley car motorman in Philadelphia and his grandfather was a trolley car motorman in Washington D.C. The author will focus his presentation on the Shaker Rapid and Cleveland Transit System.
Following his presentation, books will be available for sale and signing.
Genealogy: A Study in Black and White, Saturday, September 28 @ Main Library
Please join us for a genealogical event which will be held in Meeting Rooms E & F at the Shaker Heights Public Library, 16500 Van Aken Blvd, Shaker Heights, OH 44120.
 

Saturday, September 28, 2013, 10am-12pm

Sandra Beane-Milton of the African-American Genealogical Society talks about how to tackle obstacles in surname searches, such as name changes, misspellings, and searching by sound.

 

No registration necessary. 

 




 
Architectural Walking Tour, Saturday, September 28
Please join us for this event which will begin in Meeting Room B at the Shaker Heights Public Library, 16500 Van Aken Blvd, Shaker Heights, OH 44120.
Saturday, September 28, 2013, 2-4pm
Historian Ken Goldberg will lead a walking tour of the Winslow Road Historic District and speak about architectural features of the street, which is composed entirely of two-family homes. Bring your smartphone and follow the Winslow Road historical details on the ClevelandHistorical.org mobile app!
Register 
online
 or call (216)991-2030.
The Shaker Heights Connection: Architects and Architecture
Distinguished Homes of Shaker Heights: An Architectural Overview
-
Richard N. Campen
Publisher:
West Summit Press

Check Library Catalog
Pub Date:
01/01/1998

ISBN-13:
9780960135677

ISBN-10:
0960135677

An architectural history of this celebrated suburban community, Distinguished Homes of Shaker Heights chronicles the founding of the community by the Van Sweringen brothers and their establishment of rail Rapid Transit to the central city, and profiles the principal contributing architects. Campen has included over 245 full-color photographs with information regarding the building date, the designing architect, a stylistic designation, and in most instances the original owner and the building cost.
The Comfortable House: North American Suburban Architecture, 1890-1930
-
Alan Gowans
Publisher:
MIT Press

Check Library Catalog
Pub Date:
07/01/1986

ISBN-13:
9780262070959

ISBN-10:
0262070952

Between 1890 and 1930, more houses were built in the United States than in all its previous history. The Comfortable House provides the first full treatment of this large body of domestic building. More than half of the book is devoted to classifying these houses into categories that can help guide preservationists, architectural historians and homeowners through the great profusion of "post Victorian" styles. Aided by over 200 illustrations taken from contemporary catalogs of ready-cut houses, and photographs of actual houses, The Comfortable House classifies each style, notes its vintage, and documents its source. Some of the architecture of Shaker Heights is included.
A Cleveland Legacy: The Architecture of Walker and Weeks
-
Eric Johannesen
Publisher:
Kent State University Press in cooperation with the Western Reserve Historical Society

Check Library Catalog
Pub Date:
04/01/1999

ISBN-13:
9780873385893

ISBN-10:
0873385896

Walker and Weeks was the foremost architectural firm in Cleveland for nearly forty years, from 1911 to 1949. Its clients were the wealthy and influential of Cleveland and the Midwest; its landmark accomplishments included the Cleveland Public Library, Cleveland Municipal Stadium, Severance Hall, the Cleveland Post Office, and the Indiana World War Memorial. Best known for the classical public buildings built in Cleveland in the 1920s and 1930s, they also designed University School and Hathaway Brown School.
In the Beginning: The Early Novels of Shaker Heights Authors
Swordspoint: A Novel
-
Ellen Kushner
Publisher:
Arbor House

Check Library Catalog
Pub Date:
11/01/1987

ISBN-13:
9780877959236

ISBN-10:
0877959234

Award-winning author Ellen Kushner has created a world of unforgettable characters whose political ambitions, passionate love affairs, and age-old rivalries collide with deadly results. On the treacherous streets of Riverside, a man lives and dies by the sword. Even the nobles on the Hill turn to duels to settle their disputes. Within this elite, dangerous world, Richard St. Vier is the undisputed master, as skilled as he is ruthless--until a death by the sword is met with outrage instead of awe, and the city discovers that the line between hero and villain can be altered in the blink of an eye. Kushner is a graduate of Shaker Heights High School.
Celtic Night: A Fifteen Year Old Girl's Modern Retelling of Shakespeare's A Midsummer Night's Dream
-
Bridget O'Dwyer and William Shakespeare
Publisher:
Fresh Writers Books

Check Library Catalog
Pub Date:
05/28/2006

ISBN-13:
9781932802948

ISBN-10:
1932802940

In this modern retelling of "A Midsummer Night's Dream," a fifteen-year-old New Yorker spends six months living with her extended family in Ireland, where she learns about fairies, true love, and magic. O'Dwyer is a Shaker Heights High School graduate.
The Jump Artist
-
Austin Ratner
Publisher:
Bellevue Literary Press

Check Library Catalog
Pub Date:
05/01/2009

ISBN-13:
9781934137154

ISBN-10:
1934137154


The Jump Artist
is an evocative psychological fiction based on the true, and largely unknown, story of renowned photographer Philippe Halsman, a man Adolph Hitler knew by name, who Sigmund Freud wrote about in 1931, and who put Marilyn Monroe on the cover of
Life
magazine. Surviving an episode that presages the horrors of WWII, Halsman transforms himself from a victim of rampant anti-Semitism into a purveyor of the marvelous. Ratner is a graduate of Shaker Heights High School.
The Jump Artist
 won the $100,000 Sami Rohr Prize for Jewish Literature from the Jewish Book Council.
The Pact
-
Jennifer Sturman
Publisher:
Red Dress

Check Library Catalog
Pub Date:
12/01/2004

ISBN-13:
9780373250790

ISBN-10:
0373250797

College friends Rachel, Hilary, Luisa, Jane, and Emma, make a pact to rescue each other from romances with the wrong men--until Emma decides to marry the despicable Richard, who ends up dead the day of their wedding.
Memoirs of an Ex-Prom Queen: A Novel
-
Alix Kates Shulman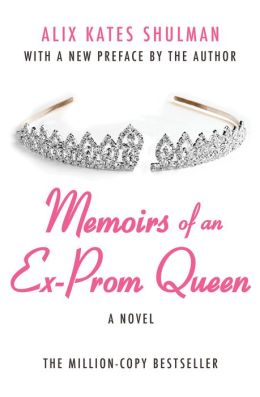 Sasha Davis, smart and pretty, was once an all-American teenage beauty queen. Full of potential, she was the only student at her midwestern high school to attend college on the East Coast. But soon her promise begins to falter. After starting graduate school in New York, Sasha gets married and drops out of school to take a clerical job. Consigned to the role of trophy wife, and already feeling old at twenty-four, she lives in fear of turning thirty—the year, in her mind, when her beauty will fade and life as she knows it will end. While she still has time, she embarks on an adventure of self-discovery and sexual exploration. Only after entering a second marriage and finding herself trapped by her responsibilities as a mother, does she finally begin to figure out what's gone wrong.