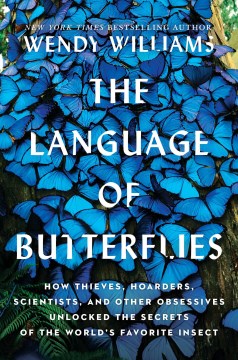 What can you learn: Butterflies are one of the world's most beloved insects. From butterfly gardens to zoo exhibitions, they are one of the few insects we've encouraged to infiltrate our lives. Yet, what has drawn us to these creatures in the first place? And what are their lives really like?
Monarch butterflies migrate thousands of miles each year from Canada to Mexico. Other species have learned how to fool ants into taking care of them. Butterflies' scales are inspiring researchers to create new life-saving medical technology. Williams takes readers to butterfly habitats across the globe and introduces us to not only various species, but to the scientists who have dedicated their lives to studying them.

About the author: Wendy Williams' previous book was the bestselling The Horse: The Epic History of Our Noble Companion.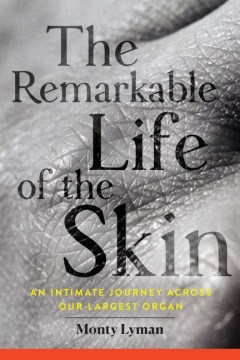 The Remarkable Life of the Skin: An Intimate Journey Across Our Largest Organ
by Monty Lyman
What it is:
One of the first things people see about us, skin is crucial to our sense of identity, providing us with social significance and psychological meaning. And yet our skin and the fascinating way it functions is largely unknown to us.
You'll learn:
Dr. Monty Lyman has written a revelatory book exploring our outer surface that will surprise and enlighten in equal measure. Through the lenses of science, sociology, and history-on topics as diverse as the mechanics and magic of touch, the close connection between the skin and the gut, what happens instantly when one gets a paper cut, and how a midnight snack can lead to sunburn-Lyman leads us on a journey across our most underrated and unexplored organ and reveals how our skin is far stranger, more wondrous, and more complex than we have ever imagined.
Reviewers say: "Tantalizing tidbits of information abound" (Booklist) in this "i
lluminating and thought-provoking" (Kirkus Reviews) book.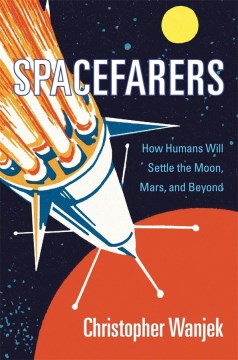 Spacefarers : how humans will settle the Moon, Mars, and beyond
by Christopher Wanjek
What it's about:
A wry and compelling take on the who, how, and why of near-future colonies in space. From bone-whittling microgravity to eye-popping profits, the risks and rewards of space settlement have never been so close at hand.
Why read it? While many books have speculated on the possibility of living beyond the Earth, few have delved into the practical challenges or plausible motives for leaving the safe confines of our home planet. Christopher Wanjek argues that there is little doubt we will be returning to the Moon and exploring Mars in the coming decades, given the potential scientific and commercial bonanza. Private industry is already taking a leading role and earning profits from human space activity. This can be, Wanjek suggests, a sustainable venture and a natural extension of earthbound science, business, and leisure. He envisions hoteling in low-earth orbit and mining, tourism, and science on the Moon. He also proposes the slow, steady development of science bases on Mars, to be followed by settlements if Martian gravity will permit reproduction and healthy child development. An appetite for wonder will take us far, but if we really want to settle new worlds, we'll need the earnest plans of engineers, scientists, and entrepreneurs. Wanjek introduces us to those planners, who are striving right now to make life in space a reality.
Reviewers say:
"Nerdily engaging (and often funny)…Technology and science fiction enthusiasts will find much here to delight them, as Wanjek goes into rich detail on rocketry and propulsion methods, including skyhooks and railguns to fling things into orbit, or maglev trains running around manmade orbital rings…He is a sensible skeptic, yet also convinced that, in the long run, our destiny is among the stars."
―The Guardian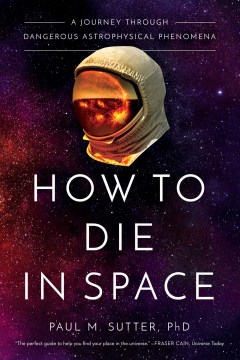 Why read it:
So you've fallen in love with space and now you want to see it for yourself, right? You want to witness the birth of a star, or visit the black hole at the center of our galaxy? You want to know if there are aliens out there, or how to travel though a wormhole? You want the wonders of the universe revealed before your very eyes? Well stop, because all that will probably kill you. From mundane comets in our solar backyard to exotic remnants of the Big Bang, from dying stars to young galaxies, the universe may be beautiful, but it's treacherous. Using metaphors and easy-to-understand language, How to Die in Space breathes fresh life into astrophysics, unveiling how particles and forces and fields interplay to create the drama in the heavens above us.
Reviewers say: "Imagine sitting around a campfire with an astrophysicist who doesn't just recount the history of cosmology, but also answers your questions. This is a wonderful read for those who are curious about big ideas." -- Seth Shostak, senior astronomer, SETI Institute [Praise for Paul M. Sutter, PhD]
"Sutter's macabre humor and lucid science writing make this an entertaining read with mass appeal.",
Kirkus Reviews
The Sirens of Mars: Searching for Life on Another World

by Sarah Stewart Johnson

What it's about: The Sirens of Mars

offers an unlikely natural history of a place where no human has ever set foot, while providing a vivid portrait of our quest to defy our isolation in the cosmos.

About the author:

Johnson's fascination with Mars began as a child in Kentucky, turning over rocks with her father and looking at planets in the night sky. She now conducts fieldwork in some of Earth's most hostile environments, such as the Dry Valleys of Antarctica and the salt flats of Western Australia, developing methods for detecting life on other worlds. Here, with poetic precision, she interlaces her own personal journey—as a female scientist and a mother—with tales of other seekers, from Percival Lowell, who was convinced that a utopian society existed on Mars, to Audouin Dollfus, who tried to carry out astronomical observations from a stratospheric balloon. In the process, she shows how the story of Mars is also a story about Earth: This other world has been our mirror, our foil, a telltale reflection of our own anxieties and yearnings.

Mars in the news:

NASA's

Mars

2020 mission is on its way. It will land at Jezero Crater in about seven months, on Feb. 18, 2021. --NASA News Agency

.
Backyard guide to the night sky
by Andrew Fazekas
What is it about:
Explore the star-studded cosmos with this fully updated, user-friendly skywatcher's guide, filled with charts, graphics, photographs, and expert tips for viewing -- and understanding -- the wonders of space.
Summer night activity for families:
Start with the easiest constellations and then "star-hop" across the night sky to find others nearby. Learn about the dark side of the moon, how to pick Mars out of a planetary lineup, and which kinds of stars twinkle in your favorite constellations. Hands-on tips and techniques for observing with the naked eye, binoculars, or a telescope help make the most out of sightings and astronomical phenomena such as eclipses and meteor showers. Photographs and graphics present key facts in an easy-to-understand format, explaining heavenly phenomena such as black holes, solar flares, and supernovas. Revised to make skywatching even easier for the whole family, this indispensable guide shines light on the night sky--truly one of the greatest shows on Earth!
About the author:
He has never met a clear night sky he didn't like!
ANDREW FAZEKAS, also known as the Night Sky Guy, is a science writer, speaker, and broadcaster who shares his passion for the wonders of the universe through all media. He writes the popular online column "StarStruck" for National Geographic and is the author of the book Star Trek: The Official Guide to our Universe. Fazekas is a syndicated correspondent for television and radio broadcast networks, the communications manager for Astronomers Without Borders, and an active skywatching member of the Royal Astronomical Society of Canada since 1983.
Mathematics: powering the cosmos
Why read it?
This is the captivating story of mathematics' greatest ever idea: calculus. Without it, there would be no computers, no microwave ovens, no GPS, and no space travel. But before it gave modern man almost infinite powers, calculus was behind centuries of controversy, competition, and even death. Taking us on a thrilling journey through three millennia, professor Steven Strogatz charts the development of this seminal achievement from the days of Aristotle to today's million-dollar reward that awaits whoever cracks Reimann's hypothesis. Filled with idiosyncratic characters from Pythagoras to Euler, Infinite Powers is a compelling human drama that reveals the legacy of calculus on nearly every aspect of modern civilization, including science, politics, ethics, philosophy, and much besides.
Reviewers say: "Marvelous ..an array of witty and astonishing stories...to illuminate how calculus has helped bring into being our contemporary world and so many of the instruments whose role we now blithely assume."
—The Washington Post
"Warning: this book is dangerous. It will make you love mathematics. Even more, there is a nonzero risk it will turn you into a mathematician."
—Nassim Nicholas Taleb, author of The Black Swan
You might also like: mathematician Amir Alexander's similarly engaging Infinitesimal, which also explores a world-changing concept.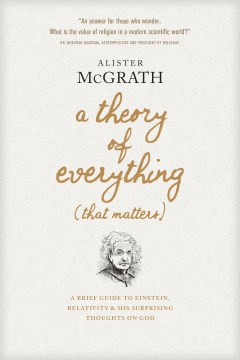 Why read it? In Light of Today's Scientific Achievements, Do We Need God Anymore?

Einstein's revolutionary scientific ideas have transformed our world, ushering in the nuclear age. The current pace of scientific and technological progress is simply astounding. So is there any place for faith in such a world?

Einstein himself gave careful thought to the deepest questions of life. His towering intellectual status means he is someone worth listening to when we think through the big questions of life: Can science answer all our questions? Why is religion so important in life? How can we hold together science and faith?
What reviewers say:
While Einstein did not believe in a personal God, McGrath writes, he was driven by a "cosmic religious feeling" that became his "strongest and noblest motive for scientific research." McGrath, a Christian, encourages other Christians to consider Einstein's teachings as a mechanism for thinking about their own ideas regarding the relationship between science, religion, and the "meaning of everything." This analysis of Einstein's ideas will appeal to any Christian reader looking to contemplate connections between God and the unresolved mysteries of scientific discovery. -- Publishers Weekly
The Math of Life & Death: 7 Mathematical Principles that Shape Our Lives
by Kit Yates
What it's about:
A brilliant and entertaining mathematician illuminates seven mathematical principles that shape our lives
(including exponential growth, probability, and algorithms) and demonstrates how these can be applied to areas such as law, medicine, the media, and more.
What it says:
From birthdays to birth rates to how we perceive the passing of time, mathematical patterns shape our lives. But for those of us who left math behind in high school, the numbers and figures hurled at us as we go about our days can sometimes leave us scratching our heads and feeling as if we're fumbling through a mathematical minefield. In this eye-opening and extraordinarily accessible book, mathemati­cian Kit Yates illuminates hidden principles that can help us understand and navigate the chaotic and often opaque surfaces of our world. Yates takes us on a fascinating tour of everyday situations and grand-scale applications of mathematical concepts, including exponential growth and decay, optimization, statistics and probability, and number systems. Along the way he reveals the mathematical undersides of controversies over DNA testing, medical screening results, and historical events such as the
Chernobyl disaster and the Amanda Knox trial.
Don't miss: the rather timely chapter in this book, "Susceptible, Infective, Removed: How to Stop an Epidemic."
Reviewers say:
"A welcome addition to the math-for-people-who-hate-math genre...All but the stubbornly innumerate will enjoy this amusing mathematical miscellany." —
Kirkus Reviews
"Many people assume that the closest math gets to their daily lives is when it's time to calculate the tip at a restaurant or the discount being offered at a store. But mathematician Yates shows that everyone—even the most math-phobic among us—interacts with math much more often and deeply than we realize." —
Scientific American
Contact your librarian for more great books!