Vera
by

Carol Edgarian
What it's about:

chosen family, resilience, and coming-of-age, set against the backdrop San Francisco just after the massive 1906 earthquake.



Starring:

Vera, the 15-year-old daughter of emotionally distant Barbary Coast madam Rose; Swedish-American Pie, Vera's pragmatic foster sister; Lifang, Vera's half-Chinese half-sister who enjoys a much closer relationship with their mother.

You might also like: A Splendid Ruin by Megan Chance, which follows another feisty young woman making a life for herself in the devastated city.


Those Who Are Saved
by

Alexis Landau
What it is: a compelling and thought-provoking story of survival and family separation set during the Nazi occupation of France.

Vichy France, 1940:

Russian Jewish

émigrés Vera and Max Volosenkova entrust their young daughter Lucie to governess Agnes after being ordered to report to an "internment" camp.

California, 1945: Although the couple were unexpectedly given a chance to escape Nazi custody, there was no way to return for their daughter along the way. The war now over, Vera is desperate to get back to France to search for Lucie in the postwar sea of refugees.

Dangerous Women

by

Hope Adams

What it is:

a moving, well-researched debut novel inspired by the true story of the 1841 voyage of the ship

Rajah

as it transported a group of female convicts to Tasmania.



What goes wrong:

As an intricate but tenuous web of connections develops between the women onboard, the violent death of a passenger threatens to unearth a multitude of secrets beyond the identity of the murderer.



For fans of:

locked-room murder mysteries and ensemble casts.
A Thousand Ships

by

Natalie Haynes

What it is: an atmospheric and witty retelling of the Trojan War, from the shifting perspectives of both familiar and unfamiliar female characters.

Starring: the goddess Calliope, who decides to make the most of her role as a Muse; Penelope, who starts losing patience after learning why it's taking so long for her husband Odysseus to return; Oenone, who was abandoned by her husband Paris for Helen of Sparta.

About the author: Classicist and comedian Natalie Haynes is a regular contributor to The Sunday Telegraph and The Independent. Her previous works include the novels The Furies

and

The Children of Jocasta

, children's book The Great Escape, and the nonfiction book The Ancient Guide to Modern Life.
The Slaughterman's Daughter

by

Yaniv Iczkovits

What it's about:

In this stylistically complex novel, a Jewish woman in late 19th-century Russia uses the skills she learned from her father (a ritual animal slaughterer) for self-defense, setting off an unexpected and and dramatic chain of events.



Read it for:

the satisfying mix of fable, observational humor, and cat-and-mouse journey through Jewish communities in

tsarist-era Russia and Ukraine.

Reviewers say:

"

Ever entertaining, Iczkovits's lively, transportive picaresque takes readers on a memorable ride" (Publishers Weekly

).

The Evening and the Morning
by

Ken Follett
What it is: a sweeping and descriptive prequel to The Pillars of the Earth set during England's tumultuous 10th century.

Starring:

down-on-his-luck boat builder Edgar; spirited young Norman noblewoman Ragna; scholarly and reform-minded cleric Brother Aldred.



Why you might like it: This intricately plotted tale of a land torn between its Saxon and Viking identities shows how a tiny riverside hamlet began its transformation into the town that series fans know as Kingsbridge.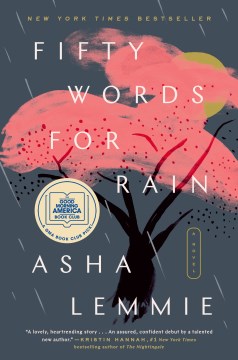 Fifty Words for Rain
by

Asha Lemmie
What it's about: Noriko Kamiza is the illegitimate child of an African American GI and a Japanese aristocrat born during World War II. Abandoned by her mother, she lives a confined, deprived existence with her status-conscious grandmother in Kyoto, Japan.

Read it for: the unanticipated strong bond Noriko forms with her half-brother Akira, the family's legitimate heir; the parallels drawn between social change and Noriko's burgeoning independence after she escapes to Swinging Sixties London.

Reviewers say:

"

A truly ambitious and remarkable debut" (Booklist

).



House of Gold

by

Natasha Solomons

The premise:

In 1911, strong-willed Austrian heiress Greta Goldbaum moved to England to marry a man she didn't know for the sake of her family's business interests. Though they get off to a rough start, Greta and her new husband build a life together, and soon they fall in love for real.



The problem:

At the outbreak of World War I, Greta finds herself torn between her family of origin and the family she has created, both of which are threatened by the increasing antisemitism

that's spreading across Europe.



For fans of: Barbara Taylor Bradford's Cavendon Hall

, another family saga steeped in doomed Belle

É

poque glamour in the run-up to World War I.
The Bass Rock

by

Evie Wyld

What it is: the compelling, intricately plotted, and century-spanning story of three women on the Scottish island of Bass Rock and the connections between them.

Starring:

Viviane, a grieving woman who arrives on Bass Rock to prepare her grandmother's house for sale; Viviane's grandmother Ruth,

who moved to the island after World War II with her new husband; Sarah, an 18th-century woman fleeing witchcraft charges who finds shelter with a Bass Rock family.

Is it for you?

Author Evie Wyld isn't shy about some of the grimmer aspects of life as a woman in history, which may not appeal to all readers.
Contact your librarian for more great books?
Demarest Free Public Library
90 Hardenburgh Ave.
Demarest, New Jersey 07627
(201) 768-8714
demarestlibrary.org