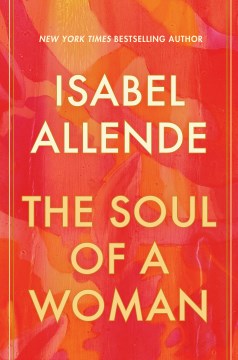 The Soul of a Woman: On Impatient Love, Long Life, and Good Witches
by

Isabel Allende
What it is:

beloved author Isabel Allende's intimate and lyrical reflections on the role that feminism has played in her life.



Topics include:

Allende's career beginnings as a journalist in 1960s Chile; the roadblocks she encountered while attempting to publish her first novel, 1982's The House of the Spirits; aging, sex, and family life.



Who it's for:

fans of Allende's work will appreciate this empowering memoir/manifesto and the lessons shared within.

Speak, Okinawa

by

Elizabeth Miki Brina

What it's about:

Raised in suburban New York by her white American soldier father and Japanese war bride mother, Elizabeth Miki Brina felt like an outsider, taking her feelings of self-loathing out on her mother.

Why you should read it:

Tackling themes of trauma and resilience, Brina's moving portrait of her complicated family life pays tribute to the heritage she longed to distance herself from in childhood.





Reviewers say:

"A can't-miss memoir that will stay with readers after they finish the last page" (

Library Journal

).
Tangled Up in Blue: Policing the American City

by

Rosa Brooks

What it's about:

In 2016, to the dismay of her family and colleagues, Georgetown law professor Rosa Brooks enrolled in the Washington, D.C. police academy, becoming a reserve officer upon her graduation.



Why she did it:

Brooks hoped to gain a firsthand understanding of the complex issues surrounding police reform, eventually creating a fellowship program to educate her fellow officers on issues like racial discrimination and implicit bias.



Is it for you?

No matter where you stand on policing, Brook's nuanced and well-researched account offers plenty of food for thought.
Smalltime: A Story of My Family and the Mob

by

Russell Shorto

What it is:

historian Russell Shorto's engaging family memoir chronicling his Italian American grandfather's rise as a small-town mobster in post-World War II Pennsylvania.



Read it for:

a fast-paced and thoughtful exploration of the limitations of the American Dream; the family secrets Shorto unearths along the way.





What's inside:

photographs; family recipes; interviews with mob connections and other family members.
Lady Bird Johnson: Hiding in Plain Sight

by

Julia Sweig

What it is:

a well-researched biography of First Lady Claudia Alta "Lady Bird" Johnson that offers fresh insights on her life and legacy.



What sets it apart:

This revisionist account positions Johnson as a key player in husband Lyndon B. Johnson's presidential administration, revealing the role she played in shaping his political strategies and ambitions.

Featuring:

diary entries the First Lady recorded during her time in the White House.
Becoming Ms. Burton: From Prison to Recovery to Leading the Fight for Incarcerated Women

by

Susan Burton and Cari Lynn; foreword by Michelle Alexander

How it began:

After her five-year-old son was hit by a car and killed, Susan Burton turned to drugs, spending the next decade in and out of prison.

What happened next:

Burton founded the nonprofit A New Way of Life, dedicated to helping women re-enter society after incarceration.





Book buzz:

Winner of the NAACP Image Award for Outstanding Literary Work, Burton's candid and moving memoir offers clear-eyed suggestions for prison reform.
Notes on a Silencing

by

Lacy Crawford

What it's about:

In 1990, 15-year-old Lacy Crawford was sexually assaulted by two male classmates at her New Hampshire boarding school, an act that school administrators tried to cover up.



Is it for you?

Crawford's powerful account of the trauma she endured offers an unflinching examination of rape culture and the institutions that condone it.



Food for thought:

"I believe, in fact, that the slur slut carries within it, Trojan-horse style, silence as its true intent."
A River in Darkness: One Man's Escape from North Korea

by

Masaji Ishikawa; translated by Risa Kobayashi and Martin Brown

What it's about:

Born in Japan to a Korean father and a Japanese mother, a teenaged Masaji Ishikawa and his family moved to North Korea in 1960 as part of the country's repatriation program.



What happened next:

Ishikawa spent three decades enduring poverty, starvation, and ostracism under Kim Il-Sung's totalitarian rule before making a daring escape back to Japan.



Reviewers say:

"[a] painful story with sardonic humor and unwavering familial love even in the depths of despair" (

Booklist Reviews

).
We Crossed a Bridge and It Trembled: Voices from Syria

by

Wendy Pearlman

What it is:

a sobering yet hopeful oral history of Syrian refugees' experiences in the aftermath of 2011's Arab Spring protests.



Book buzz:

Longlisted for the Carnegie Medal, this eye-opening collection offers a diverse array of perspectives from "a population that meets with too few opportunities to represent itself."



Further reading:

For more intimate firsthand insights into the Syrian civil war, pick up Alia Malek's

The Home That Was Our Country

.
Sitting Pretty: The View from My Ordinary Resilient Disabled Body

by

Rebekah Taussig

What it is:

a witty and engaging memoir about author Rebekah Taussig's life as a wheelchair user, with frank discussions of how disability intersects with issues like sex, dating, self-image, relationships, the media, and more.



Why you should read it: Sitting Pretty

is

a refreshingly candid and welcome voice in the growing body of literature about disability written by disabled people themselves.
Contact your librarian for more great books!
Demarest Free Public Library
90 Hardenburgh Ave.
Demarest, New Jersey 07627
(201) 768-8714
demarestlibrary.org